Unsightly graffiti paint on the side of a building won't help you project the best image for your business. Whilst this is frustrating, unfortunately this can happen on any type of building and if left uncleaned it can begin to damage the image and reputation of your company.
Smart Cleaning Services offers specialist graffiti removal and our fully trained team work quickly and efficiently to get your building clean again. We offer an immediate call out service and can work out of hours to avoid disturbing customers and local residents while we clean.
It's important to remove graffiti without damaging the underlying surface of a building. As experienced exterior cleaners we use a combination of hot pressure washing equipment and non-hazardous chemical cleaners to remove graffiti attacks entirely from any type of porous and non-porous surface, ensuring that paint is removed safely and leaves no 'ghosting' marks behind all whilst causing no damage to the fabric of the building itself.
By responding quickly to graffiti cleaning callouts, we can hopefully help to deter further graffiti attacks and damage to the exterior of your building.
We operate in and around the Liverpool region, including areas in the North West. If you're local to us and require a quick and efficient graffiti removal service please contact us today for a free quotation. Call us on 07552 169 521 or 0151 903 3182, or you can get in touch by completing our online enquiry form and we will get back to you as soon as possible.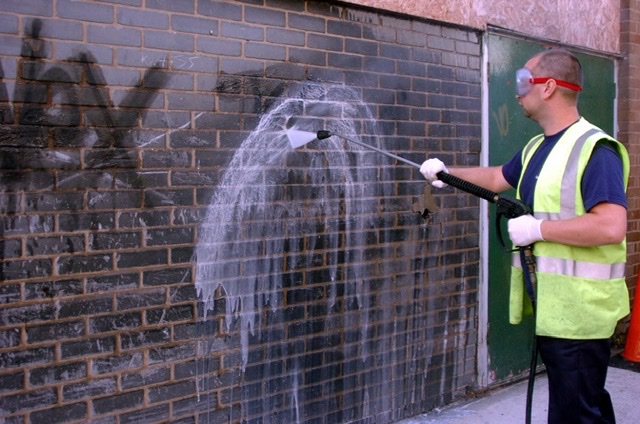 Why do our clients choose Smart Cleaning Services, time and time again?
Peace of mind. We are fully insured, holding £10m Public Liability cover and £10m Employers Liability Insurance too.
We take safety seriously. We're Health & Safety Certified, SafeContractor members and accredited by the Institution of Occupational Safety and Health (IOSH) and International Powered Access Federation (IPAF) too.
Our team have many years' experience in all types of exterior cleaning, so you can be confident that we will have the right solution for your building.
For a free, no obligation quotation tailored to your specific requirements get in touch today using our online enquiry form or call us on 07552 169 521 or 0151 903 3182.